French Bulldogs are one of the most popular breeds of dogs, known for their unique appearance, friendly personality, and loyalty. If you are looking for French Bulldog puppies for sale, there are a few things you should know before bringing one into your home. In this article, we will discuss the cost of French Bulldog puppies, common health issues, whether they make good family pets, shedding, and size.
How Much Does a French Bulldog Puppy Cost?
French Bulldog puppies can cost anywhere from $1,500 to $8,000, depending on the breeder and the puppy's quality. The cost of a French Bulldog puppy may vary based on the puppy's pedigree, health, and availability. French Bulldog puppies for sale near me are a popular option for pet owners who want to see the puppy before making a purchase.
What are the Common Health Issues of French Bulldogs?
French Bulldogs are prone to a range of health issues, such as hip dysplasia, skin infections, respiratory problems, and eye problems. It is essential to buy from a reputable breeder to ensure that the puppy is healthy and free from genetic issues. Regular veterinary check-ups and preventative care can also help to maintain your French Bulldog's health.
Are French Bulldogs Good Family Pets?
French Bulldogs can make great family pets. They are loyal, friendly, and affectionate, making them excellent companions. They are also good with children and other pets, making them an excellent choice for families. However, French Bulldogs require regular exercise and mental stimulation to prevent destructive behavior.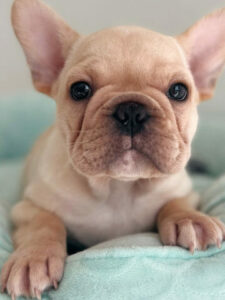 Do French Bulldogs Shed a Lot?
French Bulldogs have short, smooth coats that require minimal grooming, and they shed less than other breeds of dogs. However, regular grooming and brushing can help maintain your French Bulldog's coat and reduce shedding. The amount of shedding can also depend on the individual dog's genetics and lifestyle.
How Big Do French Bulldogs Get?
French Bulldogs are a small breed of dog, with an average weight of 16-28 pounds and a height of 11-12 inches at the shoulder. Male French Bulldogs are generally larger than females. French Bulldogs have a muscular build, making them a distinct and unique-looking breed.
Shopping at Puppies To Go Inc in Miami
If you are looking for French Bulldog puppies for sale, Puppies To Go Inc in Miami is the perfect place to visit. We offer a wide range of French Bulldog puppies in different colors, including blue French Bulldogs, gray French Bulldog puppies, and black French Bulldog puppies. Our French Bulldog puppies come from reputable breeders and are well-cared-for and healthy. We also provide after-sales support to ensure that our customers have a smooth transition with their new pets.
Our website, www.puppiestogoinc.com, is an excellent resource for learning more about our available puppies. We update our website regularly with new puppies and provide detailed information about each puppy, such as their breed, age, and size. We also offer a virtual tour of our store, providing our customers with a sneak peek of our facilities.
If you have any questions or concerns, our friendly and knowledgeable staff are ready to assist you. You can call us at (305) 262-7310 or visit us in-store to speak with our team. We are dedicated to providing our customers with a positive experience and helping them find the perfect puppy for their lifestyle. We invite you to visit our stores located in Miami or browse our online store at www.puppiestogoinc.com to find your perfect companion. If you have any questions or would like to learn more about our puppies, please call us at (305) 262-7310.