If you're considering adding a Schnauzer puppy to your family, it's essential to understand the factors that contribute to the cost. The price of How Much do Schnauzer Puppies Cost can vary based on various considerations, ensuring that you make an informed decision. At PuppiesToGoInc, we provide valuable information to help you understand what influences the cost of Schnauzer puppies.
Factors Affecting Schnauzer Puppy Prices
Breed Quality: The quality of the Schnauzer's bloodline and pedigree plays a significant role in pricing. Puppies from champion bloodlines and show-quality parents often come at a higher cost.
Color and Markings: Some Schnauzer puppies may have unique color patterns or markings that make them more desirable and, therefore, pricier.
Age: Older puppies may be available at a lower price compared to younger ones. Younger puppies, especially those that are eight weeks old or younger, tend to be more expensive.
Breeder Reputation: Reputable breeders who prioritize the health and well-being of their puppies may charge higher prices. It's essential to choose a breeder known for responsible breeding practices.
Health and Vaccinations: Puppies that have received their initial vaccinations, are dewormed, and have undergone health checks are typically priced higher.
Registration and Pedigree: Puppies registered with kennel clubs or those with detailed pedigrees may be more expensive.
Geographical Location: The cost of Schnauzer puppies can vary significantly based on where you live. Puppies in areas with a higher cost of living may be priced higher.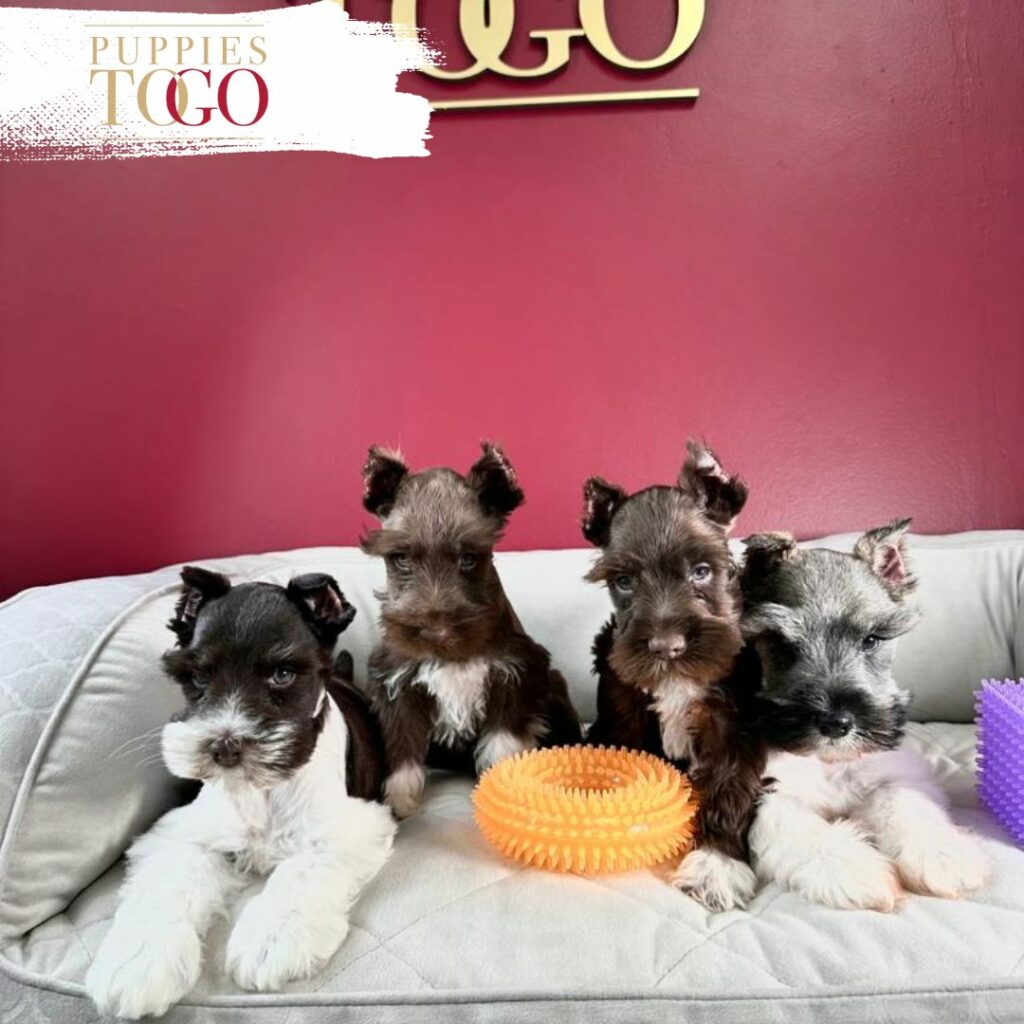 PuppiesToGoInc: Your Source for Schnauzer Puppies
At PuppiesToGoInc, we offer a variety of Schnauzer puppies and other razas puppies, ensuring that you have options that fit your preferences and budget. We are committed to providing healthy and happy puppies to loving families.
Stay Connected with PuppiesToGoInc
To explore available Schnauzer puppies and learn more about our financing options, visit our website at www.puppiestogoinc.com. Stay updated on valuable information, including puppy care and training tips, by following our Expert Blog here. You can also reach out to us on WhatsApp at PuppiesToGo WhatsApp if you have any questions or need more information.
In conclusion, the cost of Schnauzer puppies can vary based on several factors, including breed quality, age, breeder reputation, and location. It's essential to do your research and choose a reputable source for your Schnauzer puppy to ensure a happy and healthy addition to your family.